THE BEGINNINGS OF MY FASCINATION WITH ANCIENT MUSIC

My interest in ancient music all started when I was just 14 - I happened to find an old cassette tape of the late great David Munrow's reconstruction of early medieval music. The transporting quality of the music immediately struck me - it was able to carry my mind back in time in a way so much more direct and immediate than any dusty text book or museum exhibit ever could; music alone, almost like a magic carpet, had the power to take the mind on a fabulous journey of time travel, back to simpler times, when magic was perceived to be part of the very fabric of the Universe, there was still the awe of the pantheon of the gods, and there a greater appreciation of the fragility and brevity of life. On a philosophical level, I wonder if it is it for some of these reasons, that we will always continue to be so fascinated and inspired by the ancient world?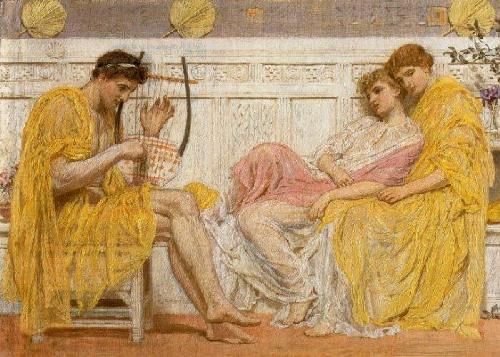 MY CHILDHOOD FASCINATION WITH THE ANCIENT LYRE - REKINDLED!

Also in my 14th year, I happened to hear an old LP "Together", of the fabulous Classical guitarists, Julian Bream & John Williams - their arrangement of Ravel's "Pavane for a Dead Princess" sent shivers down my spine, and for the first time, it's haunting, evocative harp-like tones and the middle section where the melody magically modulates into the hauntingly poignant ancient Greek Phrygian Mode (misnamed the "Dorian" mode in the Middle Ages) let me imagine what both the lyre of antiquity and the effect on the listener upon hearing the ancient musical modes, must have once sounded like...
I was delighted to recently find once more, for the first time in over 30 years, this very same magical recording on Youtube:
My childhood fascination for the lyre of antiquity was rekindled once again, when in 2006, I stumbled upon a fabulous CD, "Music From The Time of Jesus and Jerusalem's Second Temple" by the San Antonio Vocal Arts Ensemble - an incredible album, which attempted to recreate the lost sounds of the Levitical Ensemble and Levitical Choir in the Temple of Jerusalem.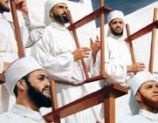 It was in the actual liner notes of the CD, that I first saw a modern day evocation by Mid East Ethnic Instruments, of the Biblical Kinnor (the 10 strings Biblical lyre of my very own, very ancient Levite ancestors, mentioned throughout the Biblical text and also in the writings of the 1st century Jewish historican, Flavius Josephus - now that's what I call extreme "Roots Music"!)
After a quick Google search on "Kinnor", I was astounded to learn that I could actually order the very same lyre as used in this CD, on eBay - my journey into attempting to evoke the lost sounds of the lyre of antiquity had begun...
---
THE BIRTH OF MY YOUTUBE CHANNEL
Later on in 2006, I first heard of the then new-fangled "YouTube", and posted my very first tentative grainy old webcam videos of my attempts at learning to play on my evocation of the Biblical Kinnor, some of the Klezmer music repertoire I knew as a self-taught Klezmer fiddle player.
 
I also gained a few fans on the now sadly virtually defunct Myspace, where one of them suggested that I should put together an album...and the inspiration for my first album, "King David's Lyre; Echoes of Ancient Israel" (featuring mainly traditional Jewish instrumental Klezmer music and sacred Jewish melodies arranged for my newly acquired Biblical lyre), was born!
 
My first ever Youtube video hit the unsuspecting world on 31st August 2006 - a shakey attempt at playing "Hatikvah" on my newly acquired evocation of the Biblical Kinnor. Although I deleted the original video on Youtube very shortly after uploading it, a few years later, for the sake of history, I decided to 're-upload' it, in all it's original, grainy 'glory':
 


MY UNDERLYING PASSION FOR 'ROOTS MUSIC'

My "Klezfiddle1" Youtube Channel was so named, as it was originally set up for my bold experiments at thrashing traditional Jewish Klezmer music on my electric fiddle...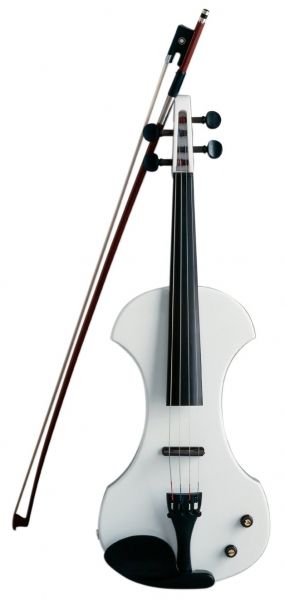 There has always been something about "Roots Music" which inspires me! My journey into exploring Jewish music and indeed, any sort of music, did not begin until I was 11 years old - I had until then, absolutely no interest in music, until for the end of my first year at secondary school, when we had to do some sort of basic practical exam for our music class. As I could not play any instrument, my father & I decided to have a go at playing by ear, a one-fingered arrangement of the timeless Jewish classic, "Hava Nagila" on the piano - my inspiration to learn to play music was born!  
 
I went on to teach myself the piano to about grade 5 and had a few lessons towards my grade 6 exam whilst studying for my A' Level...during which my digital watch alarm went off in the middle of some tedious piece by Haydn, putting me off from the formal Classical route of music, forever!
 
My view of the piano as an "instrument of torture" was further reinforced when, due to the complete lack of any employment prospects I had in 1992, I was forced to become self-employed for 10 long, miserable years, as a piano tutor for the "terminally tone deaf"! It was this primarily this experience which acted as a catalyst to drive me to seek refuge, in teaching myself to play new and more challenging instruments - since 1991, I then taught myself to play fiddle, mandolin, banjo, a bit of guitar & ukulele: During my many years of unemployment (since gaining my (sadly vocationally useless!) philosophy degree in 1989!), I even developed my own somewhat unique "George Formby Busking Act" - as featured in "The Manchester Evening News"!
 
I discovered the magic of traditional Jewish Klezmer music in 1998, and given my childhood passion for "roots music" (following my 1-fingered arrangement for piano of "Hava Nagila" when I was 11!), I then concentrated all my musical efforts at attempting to master the art of the Klezmer fiddle...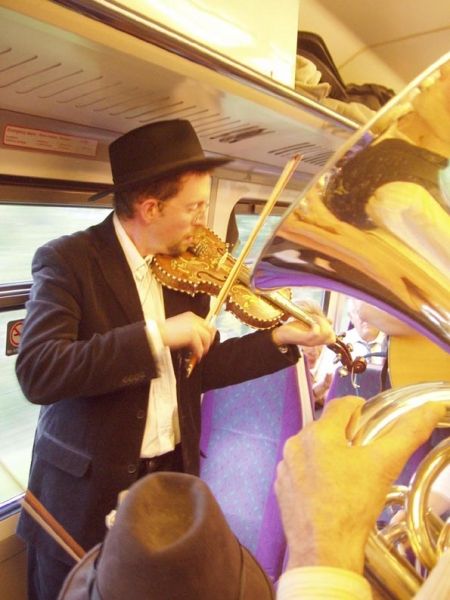 Live Klezmer music aboard the Hathersage Folk Train, 2005!
---
THE STORY OF HOW MY ALBUMS WERE ACTUALLY RECORDED

It has all been quite a journey - and as this little video describes, some moments of this ride have been considerably "bumpier" than others!!
 

The very first seed of inspiration to actually find a proper recording studio, was thanks to the suggestion of one of my fans on Myspace, at the start of 2008. After much frantic Google searching, I finally found a studio I could get to on the Manchester "Metrolink" tram service...(alas, the last time I took a driving lesson, 20 years ago, I mistook the accelerator for the brake - in the Emergency Stop!).
 
Anyway, I finally found "The Cutting Rooms", a few minutes walk away from Crumpsall Metrolink Station, and in March 2008, my lyre and I went on our very first "Tram Ride into Musical History!!" It proved to be a long journey...the marriage of my evocation of the 3000 year old  Biblical lyre, and 21st century digital recording technology, nearly ended up in divorce!!!

I will always be grateful to the infinite patience of my first ever maestro sound engineer, Tom Winstanley...in my 6 month long quest, to find just the right "etherial, ancient sound" and delicately balanced EQ settings which I for so long, desperately sought!
 
The main problem we encountered, was the softness in tone of my lyre, compared to the screeching Thrash-Metal rock bands who usually stalked the studio building!! I would be half way through an intricate improvisation on an ancient 3500 year old Egyptian scale....when some spikey-haired, leather-clad, unwashed, axe-thrashing Yetti would go and slam a door - and I would have to start all over again!
 
Below is a photo taken of me in the studio, in these somewhat frustrating early stages of (attempting!) to record "King David's Lyre; Echoes of Ancient Israel":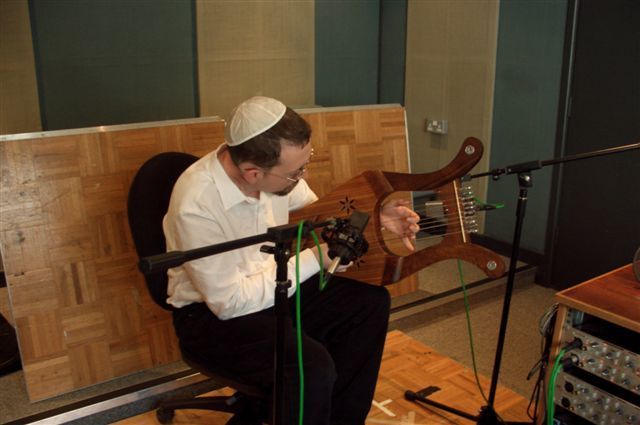 The most technically challenging piece on "King David's Lyre; Echoes of Ancient Israel", was track 10, "Odessa Bulgar" (which after "The Music of Moses", happens to be my own favourite track!). Here is a "live" performance of my arrangement for Kinnor, of "Odessa Bulgar":
 

In my arrangement for solo lyre of this fantastic traditional Klezmer classic, I experimented with an ancient style of lyre playing still heard in Eritrea, East Africa, known as "block and strum". This entails the initially mind-boggling technique, of blocking with fingers of the left hand, notes not required to be heard, and leaving open for strumming with the plectrum in the right hand, notes which are required to be heard - by this technique, it is possible to strum different chords on the lyre,  just as on an acoustic guitar - despite the fact there is no fingerboard to actually form these chords! 
 
It is like tying to play the guitar backwards - instead of holding notes down with the left hand to form chords, in this technique, one is holding down notes not required to be heard to form chords! The final result of this mind-muddling mental contortion, sounds like some kind of totally cryogenically cool "Klezmer/Flamenco Fusion"!!
 
Sadly, "The Cutting Rooms" was yet another victim of the global ecconomic recession, and closed its doors in May 2009. Undaunted by the demise of the only recording studio I could get to, I invested in an affordable little digital recorder and bravely recorded, mixed & produced my album, "An Ancient Lyre" myself. 
 
Shortly after releasing "An Ancient Lyre", I had the pleasure of meeting an incredible Manchester-based young composer, multi-instrumentalist, & quite frankly sound engineering genius, called Dominik Johnson, who contacted my on my "Ancient Echoes" Myspace page - this was the most serene bit of serendipity to ever come from my experience of using the now sadly, virtually defunct Myspace site! 
 
Dominik has masterfully mixed every album I recorded since 2010, adding new magic to each of my recordings, with his haunting selection of reverbs, sampled from actual ancient Middle Eastern caves...
---
ACKNOWLEDGEMENTS
 
Special thanks is due to Biblical Musicologist, John Wheeler, for all the fascinating information on ancient lyre-playing techniques, and for invaluable information on the historical background to the creation of my debut album, "King David's Lyre; Echoes of Ancient Israel", recommending to me in 2011, the wonderfully hand-made "Marini Made Davidic Harp" and for so kindly providing me with the authentic, ancient just intonation tuning tones with which I have been able to tune my lyre to, for all of my releases since 2012.
 
Thanks is also due, for the excellent album artwork/disc manufacture of first few physical CD albums, by Paul Draper of "Dead Frog Studio", Ormskirk.
 
Special thanks to Tom Winstanley of the now very sadly closed "Cutting Rooms" Studios, Crumpsall, Manchester, for his infinite patience, in the epic mixing and mastering of my first debut album, "King David's Lyre; Echoes of Ancient Israel"! 
 
Thanks again, to the incredible audio engineering & general genius of Dominik Johnson, in producing all of my albums recorded since 2010.
 
Many thanks to my Youtube subscriber "Leftyseargent", for all the fascinating research into the radiation of ancient Mesopotamian musical culture.
 
Special thanks is also due to Joseph Ennis, for his invaluable contributions on ancient tuning systems.
 
Above all, special thanks to all the many loyal subscribers to my Youtube Channel: it is thanks to all your support, comments, constructive criticism and encouragement, which has finally transformed my dream of creating these albums, dedicated to restoring the sound of the ancient Lyre of my Levite ancestors, a reality! I am, & always will be, grateful to you all, each & every one of you... 
---